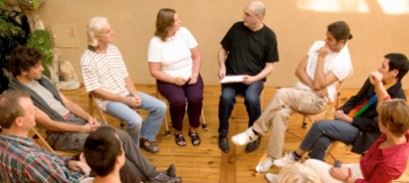 Parenting is one of the most rewarding life choices we can make.
Parent Circle Programs
Parenting is one of the most significant and rewarding life choices we can make. Yet it is also one of the most challenging in a culture whose traditional sources of support are becoming increasingly unavailable. The ParentCircle program was developed to address this issue.
ParentCircle helps parents by providing education and training, structure and guidance for personal growth work,and utilizing the energy naturally found in small circle groups. These central elements: Education, Support and Personal Growth are the cornerstones of our program. As parents become increasingly aware and more competent and conscious their experience of parenting becomes more rewarding.
The ParentCircle program consists of a small group of parents who regularly meet together with a specially trained therapist or educator. The group format is designed to help parents discover how to help themselves as well as help one another learn to grow. Parents share struggles & successes, deepen their understanding of themselves and their children, and utilize the energy and support of the group to stimulate growth and development.
The ParentCircle is designed to "outlive" the need for a therapist. Groups may choose to continue to meet as peer based parent groups without a therapist, thus providing ongoing support for one another well into the future.
ParentCircle sessions are reasonably priced with spaces available at reduced fees and may be insurance reimbursable. Call Dr. David Flohr for information and/or to register @ (703) 533-5824 x6.
CORE COMPONENTS
Personal Growth Work
Parent development plan
Resolving negative patterns
Self and other awareness
Mindful parenting
Response flexibility
Group Work
Understanding your self-as-parent
Encouragement & self esteem
Effective communication
Parent/Child relational patterns
Parent Education & Training
Attachment and Temperament
Settings Limits: Kind, Firm, Real
Natural and Logical Consequences
Child Development
Healthy Family Functioning