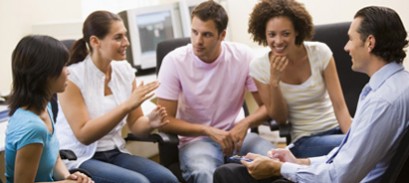 Parent group is an integral part of your child's group therapy.
Parent Groups
The parent group is an integral part of your child's group therapy. It provides an opportunity to develop and maintain an on-going relationship between you and your child's therapists. Information can be exchanged in the group regarding your child's development at home, at school and in group. It also provides an opportunity for parents to share important information with each other regarding common parenting issues. If specific issues should arise at any time that require more intensive discussion we will be available to schedule other appointments at your request. We expect that we will meet at least once or twice during the group year with most parents in order to be able to facilitate closer collaboration around issues specific to your child.
We strongly encourage both mothers and fathers to attend the parents group meetings on as regular a basis as possible. The development and maintenance of an on-going working relationship between us is one of the factors that seems critical to the success of your son's group experiences. If you have particular difficulties attending the parent groups, please feel free to discuss them with us at any time. If you are unable to attend specific parent group sessions, please call to let us know.